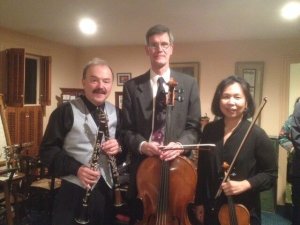 The Calvin B. Taylor House Museum will have several special openings in December to celebrate the holidays.  The House will be decorated with fresh greenery arrangements in early December.
On Saturday, December 3, the Museum will open from 11:00 a.m. – 4:00 p.m. in celebration of our Museums of Worcester County Holiday Traditions Day.  Curator Susan Taylor informs, "Wassail and gingerbread will be served to Museum guests that day to give visitors an early taste of the holidays."  Each year the Museums of Worcester County celebrate the holidays by special openings highlighting different Christmas traditions or events in each museum.
The Taylor House Museum's Classical Christmas Dinner and Concert will be held on Monday, December 5, featuring The Salisbury String Trio and a three-course gourmet dinner.  The candlelight concert is at the museum and the dinner is at the Atlantic Hotel.  There are two dinner seatings available.  The first seating begins at 6:00 with the concert to follow.  The second dinner seating begins with the concert at the museum at 6:30 with an 8:00 dinner following.  Tickets are $60.00 per person and reservations are required for this popular event.  Contact the Museum at 410-641-1019 for reservations.
Holiday events at the Taylor House end with a candlelight tour on Friday, December 9, from 5:00 – 8:00 pm. and guided tours on Saturday, December 10 from 11:00 – 4:00 pm.
Susan concludes, "For holiday shopping, the Museum is a great place to pick up last minute gifts for those hard-to-buy-for friends and family on your shopping list. Three special books are available at the Museum for the local history buff.  Images of America: Berlin at $21.19 will be a popular gift for those wanting more information on the history of our town.  This photographic history of our "Coolest Small Town" is a great memento of our Museum's "Images of the Past" gallery display.  Joseph Moore'sMurder on Maryland's Eastern Shore at $26.49 and Worcester County Maryland's Arcadia by Reginald V. Truitt and Dr. Millard G. Les Callete at $26.50 are both excellent choices for the book lover on your list. Other available gift ideas include a museum tote bag or Peach Festival t-shirts at $15.00 each, or a Peach Festival ball cap for $15.00.   Museum memberships are also available for $20.00 for individuals, $25.00 for families or $50.00 for corporate membership.  All memberships include a subscription to our quarterly newsletter."