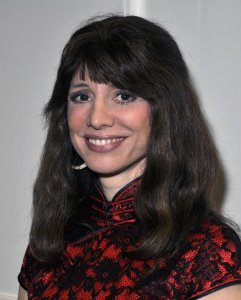 Author Catherine Asaro will lead the Howard County Chapter of the Maryland Writers Association in a discussion about writing science fiction and fantasy. The talk is from 7-9 p.m. Thursday March, 16 at the Owen Brown Community Center
Asaro is the author of more than twenty-five books, including thrillers, SF, and fantasy. Her novel The Quantum Rose and her novella "The Spacetime Pool" both won the Nebula® Award. Among her many other distinctions, she is a multiple winner of the Reader's Choice Award from Analog magazine and a three time recipient of the RT BOOK Club Award for "Best Science Fiction Novel."
Catherine is also the Director of the Chesapeake Math Program and teaches math, physics, and chemistry. She has coached various nationally ranked school teams, in particular the Howard Area Homeschoolers and the Chesapeake team for national tournaments. She has been a speaker at various institutions, including Georgetown University, Harvard, The American Association for the Advancement of Science (AAAS), The Global Competitiveness Forum in Saudi Arabia, and the US Naval Academy, and others. As a member of SIGMA, a think tank of futurists, she advises the government and business sector as to future trends affecting national security.
A former dancer, Catherine founded and served as artistic director and a principal dancer for two dance groups at Harvard: The Mainly Jazz Dance Company and the Harvard University Ballet. She has also completed two terms as SFWA president and during her tenure established the Andre Norton Award for Young Adult Science Fiction and Fantasy.
HoCo continues to collect new or gently-used books for HopeWorks. (The Howard County Domestic Violence Center.) All genres and age groups are needed, but due to the nature of their services, they request that the books contain no mention of violence against women or children.